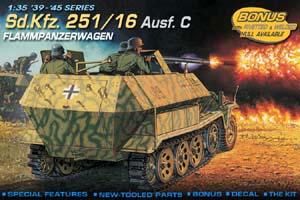 That's funny name. Try saying it 3 times quickly :) Lately I've decided to take a journey back to my hobbisitc roots, time when I started fun with models overall. Before I was engaged into war games I was wasting my time with World War II's 1/35 models, mainly tanks and other armoured forces.
Now in depths of my I found room , kit I've bought couple years ago i.e Dragon's 1/35 German APC by name of Sd.Kfz 251/16 Flammpanzerwagen. It's one of many variations o this 251 type APC which was equipped with flamthrowers (2 of them and third one for use of infrantry mounted onto back doors. It's rather interesting one so it should be fun working with it.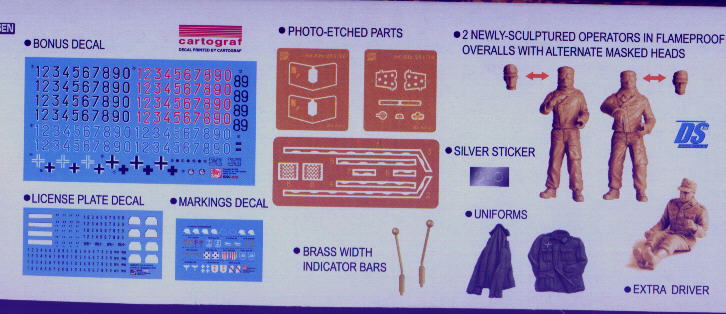 Model itself is really well done (Dragon's standard for yers now). It came in series of models with additional photo-etched , brass and other various components, which are to make it more realistic. Whole moulds are top notch , withhout excesive mould lines , fitted tohether very well, with additional 3 crew members attached.
Especially those minis would be quite a shock to anyone ho's been dealing with wargames due to material they're made of. It's neither plastic, nor metal but tan vinyl, which makes them a bit more detailed but harder to work with in terms of fitting and cleaning. I guess other detailed alternative would be resin, but it would increase overall cost of set (in addition resin miniatures are domain of Verlinden which makes great one by the way). I decided to make that comeback to 1/35 scale modelling more interesing by trying to paint the model in winter camouflage.
My choice went to the
116th Panzer Division
, also known as the "Greyhound 'Windhund' Division" which took part , among other operations, in Battle of the Bulge in 1944 (also know as battle for Ardens). I think it's project that will take me some time (mainly because I decided to work on it on weekend while at home so I guess 2-3 months will be the lowest estimate time in which I can complete it).